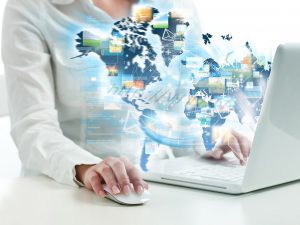 You've heard of the Cloud, as the best IT support service in Canberra we say you know a little bit about it, but what exactly is Cloud and what does it mean for your business? It's easy to become confused in the world of Cloud jargon, so we've put together a beginner's guide to help you understand how to make an informed and educated move to the Cloud.
What does Cloud mean and why is it referred to as Infrastructure as a Service?
The term 'Cloud' is broad and has no singular definition. In its simplest form, Cloud can be defined as the storage and accessibility of data and applications over the internet instead of a computer hard drive. When discussing Cloud, it can be referred to as Infrastructure as a Service, or IaaS, this simply means the virtual delivery of resources in the form of hardware, network and storage services, delivered from a Service Provider, on-demand to you, the customer.
I understand what Cloud is, but why do I need it?
The Cloud is now, organisations should be readily looking to move their business models into a virtual environment. Here is what the Cloud will bring to your business:
Savings: Moving to the Cloud means no more maintenance or replacement costs on hardware and networking equipment. Operating under a pay-as-you-go system, only pay for what you use with no lock in contracts or unexpected feeds
Flexibility: Access your files and applications from anywhere, any location and from any device
Ease of scalability: The Cloud allows you to easily scale up or down as your business grows. You're able to respond to workplace changes as soon as they arise
Increased focus on business growth: Time, energy and resources are no longer wasted on IT. With the Cloud you're able to focus on growing your business while the service provider looks after the maintenance and development of IT.
The benefits look great, but what do I need to consider?
Shifting your business to the Cloud is a significant change and there are a number of areas you need to address to ensure your organisation transitions to the Cloud seamlessly. Consider the below areas to ensure a successful move:
Identify your business case: What are the benefits to not only your IT but the everyday operation of the business?
Availability and performance: What are your current internet speeds? Can it handle Cloud or will you need to upgrade? Have you thought about uptime and the accessibility to your information when needed?
Implementation process: What are the short, mid and long term goals of your Cloud strategy? How will implementation of Cloud deliver this?
Security: With Cloud, no one should have access to your data besides you and your organisation, have you discussed all areas of security and data protection?
Disaster Recovery: What would happen in the event of a disaster? Discuss a disaster recovery and backup plan to ensure you never lose access to your Cloud
Policies and procedures: Have you made changes to existing company policies to accommodate the Cloud?
I've taken into consideration the development and implementation of Cloud, but security is still a concern. How do I know my information is secure?
Business security and data protection is critical to all organisations. It's important to ask the below questions to your service provider to ensure data security is their top priority and you're confident in their data protection strategies:
Who is responsible for ensuring my data is secure?
Where is my data kept? Is it within Australia?
Do you have any security certifications? If so, what are they?
What will happen if my data security is breached?
How is my data safeguarded from other clients?
What are your SLA's? May I have a copy?
What will happen if you go out of business? What will happen to my data?
I'm ready to make the move to Cloud, how do I pick the right provider?
Trust and transparency are two major factors that should contribute towards selecting the right Cloud service provider for your business. Ultimately you are trusting them with your entire critical business information and there must be transparency so you know exactly what you are signing up for.
Ensure your potential Cloud service provider understands the following:
Your business model, goals, and plans for the future
The need for open communication. You're entering a long term partnership, communication is vital
The results you require and how they are expected to be delivered
Your level of technical knowledge and understanding of Cloud
I have more questions, who do I talk to?
If you want to know more about Cloud or anything in the beginners guide please contact us.